Psychological counseling, support and follow-up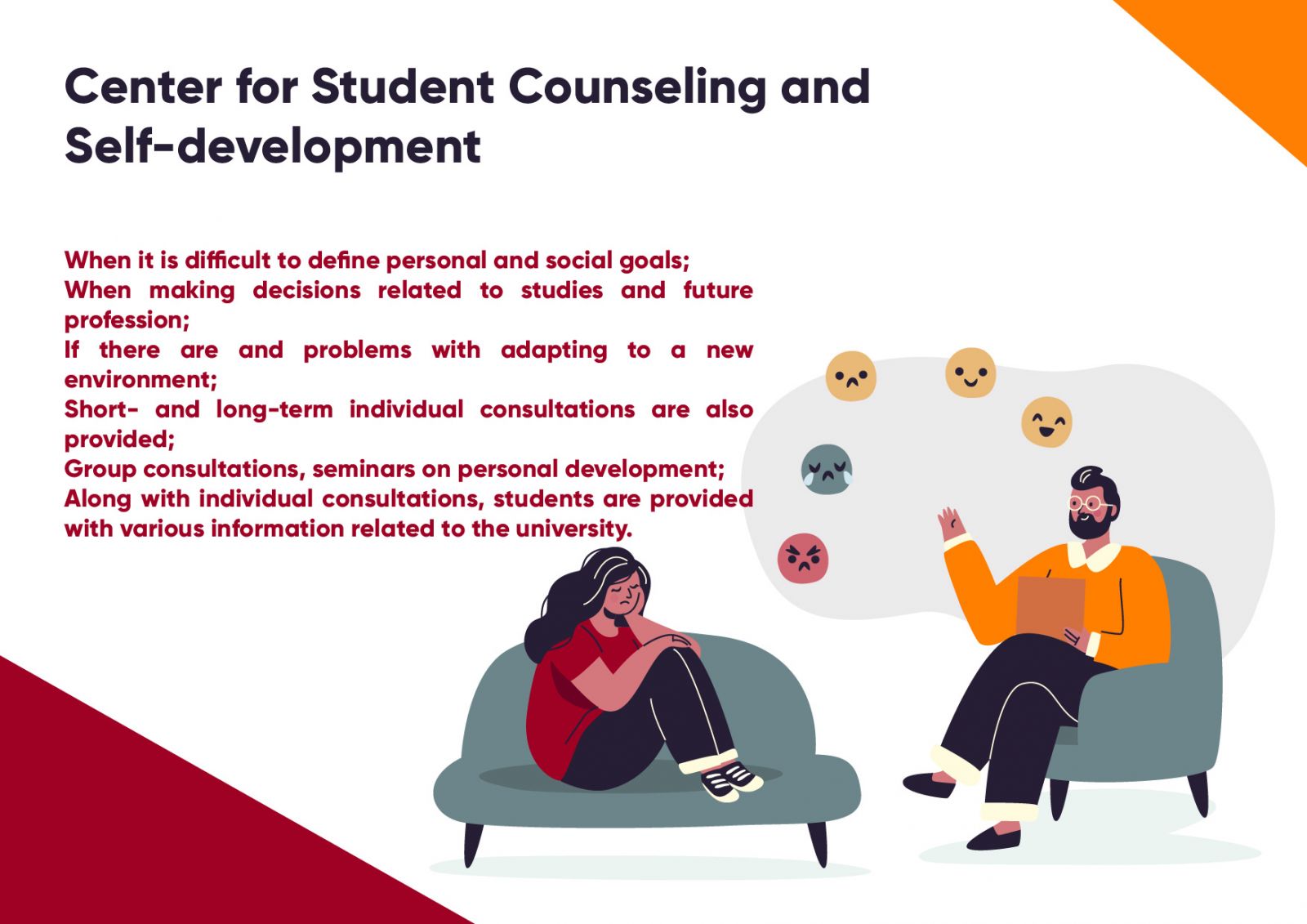 Goals and objectives of the Center:
The service basics are the following:
Supporting students' mental health and personal development;
Providing psychological assistance in overcoming crisis and stressful situations, optimizing interpersonal relationships, self-discovery and self-conception, understanding their needs, values ​​and goals;
Conducting psychodiagnostics and giving necessary recommendations;
Working with professional self-determination;
Psychological correction of behavior, studying psychosocial processes in their environment, forming the positive attitude towards learning, social norms and values;
Promoting tolerance among students for intercultural differences from the perspective of deep respect, understanding and self-knowledge;
Psychological follow-up of a student in short-term, long-term and group consultations.
You can contact us in the following and similar circumstances:
Ø When it is difficult to define personal and social goals;
Ø When making decisions related to studies and future profession;
Ø If there are and problems with adapting to a new environment;
Ø Short- and long-term individual consultations are also provided;
Ø Group consultations, seminars on personal development;
Ø Along with individual consultations, students are provided with various information related to the university.
During the year, we carry out preventive work on self-organization of student's personality. These are psychosocial trainings and seminars.
Our principles: voluntariness and confidentiality.
Address: Center for Student Counseling and Self-development. Campus named after Chyngyz Aitmatov, 720038, Dzhal Microdistrict, Bishkek. Student hostel: Block A, 1st floor, office 103.
For more information, 49 27 59 (internal number: 863, 692) E-mail: ogem@manas.edu.kg
Director of the Center: Nazira Kubanychbek
Contact Information:
Campus named after Chyngyz Aitmatov, 720038, Dzhal Microdistrict, Bishkek, Kyrgyzstan
Phone: +996 312 49 27 59 (695)