About KTMU
Our institution and statute: Our university was founded after two friendly and brotherly countries, the Kyrgyz Republic and the Republic of Turkey signed an agreement on establishment of international state university with a special status on September 30, 1995 in the capital city Bishkek of Kyrgyzstan.
Our mission: The mission of the university is to educate the youth from all over the world, primarily from the Turkic Republics and Turkic nations; to study together and create a common understanding, and therefore to contribute to world science primarily to Turkic civilization; to train individuals who are competent and self-confident in their subjects, who are equipped with universal values, moral principles and with the knowledge of being "Turk" in the framework of our common culture, who are aware of their social responsibilities, and who are competitive to be employed in international arena.
Vision of the university: To become a well-known and internationally recognized authoritative university and to be an educational brand on an international level known for its research and service to society, a university that will bring benefit not only to the Turkic world, but all of humankind.
Our objectives: To educate qualified individuals, to adapt the Bologna process, to apply flexibility in education, students centered education, effective communication and cooperation with the internal and external partners, to provide technology based education, to become a member of European Universities Association.
Our university campus: The most attractive university campus in Central Asia is located in Bishkek, in the foothills of Tengri Mountains, which offers rich, secure, social, cultural and artistic life opportunities for the nation, and where multi-cultural population of people live together in peace and harmony.
Our teaching language: Turkish and Kyrgyz are official languages of education and training of the University. However, our students have a chance to take Russian, English and Chinese as a foreign language.
Education expenses: Education at Kyrgyz-Turkish Manas University is completely free of charge. In addition, favorable accommodation, food and scholarship opportunities are available
for our students.
Our students: Our university has multi-cultural population of 6291 students from 14 different countries. Our students study and live in peaceful, friendly and unified atmosphere and have also a chance to benefit from internship opportunities in the leading organizations.
Our graduates: To date, 8382 students have obtained bachelor, master and doctoral degrees from the university, with such academic knowledge they have advantage in this competitive world and can easily find a job in international business arena.
Our student council: Our Student Council has an active cooperation and communication with University management; it plays a leading role in ensuring the unity and harmony among our students. Student clubs carry out activities in various areas, so our students may effectively express themselves and improve their skills in their area of interest.
Academic units: University offers
to student's wide area of university education including 9 faculties, 3 higher schools, 1 Vocational school and 2 Institutes with 48 programs and 20 departments.
Academic teaching staff: More than 500 outstanding academic staff from 6 countries work on a full-time and part-time basis. Our academic staff make their contributions to the development of science through their scientific studies and publications.
Administrative staff: More than 400 administrative staff of our university is working in accordance with appropriate plans. All administrative staff work in close contact with students within a peaceful environment.
Infrastructure: Our oniversity has 2 campuses with an open area of 840.140 m2, 24 buildings, 42 apartments, 55 laboratories, 137 classrooms, 4 meeting halls, 3 conference halls, 4 dining halls, 6 canteens, 1 open and 1 closed sports arena, 3 student dormitories, 2 libraries and learning centers, and has become the first and the only campus university in Central Asia.
Our activities: Every year a lot of international scientific events are conducted by our university; opening a platform for scientists from various parts of the world to come together with colleagues from Central Asia and to share academic information and make joint scientific work. As well as our students, academic and administrative staff have an opportunity to attend many social, cultural, artistic and sports activities.
Community services: The University offers a rich academic knowledge for the benefit of society. In this context, consulting services, training of Turkish and other languages, certifications and skills-based courses, institutional capacity building programs, transfer and sharing of international experience, project-based collaborative activities work are successfully carried out.
Our collaborations: Our university which is open to all kinds of cooperation with other universities has about 150 cooperation agreements with universities and organizations from Turkey and from universities all over the world. University allows its teaching staff and students to participate in exchange programs, as well as to conduct joint scientific projects. Our university conducts a lot of scientific projects in different fields of education with its partner universities. In addition, a lot of scientific meetings are organized on the basis of our University. Also opportunities are open to researchers to make research in the cradle of Turkic civilization of Central Asia.
Students admission: The university accepts students from 3 main sources. These sources are: Kyrgyzstan, Turkey and other Turkic countries, Turkic communities and foreign countries. Enrollment of students from Kyrgyzstan is performed every year according to University Student Selection and Placement Examination (Manas-University Entrance Exam) and Kyrgyzstan General State Exam (ORT). Students from Turkey are accepted to Kyrgyz-Turkish Manas University on the basis of their ÖSYM (Measuring, Selection and Placement Center) tests. Turkish students are accepted to the faculty and department of their choice by the University according to OSYM quotas and students preference and exam scores.
Students except of Kyrgyzstan and Turkey, from Turkic Republics and Relative Communities are accepted by commission established by the Rectorate.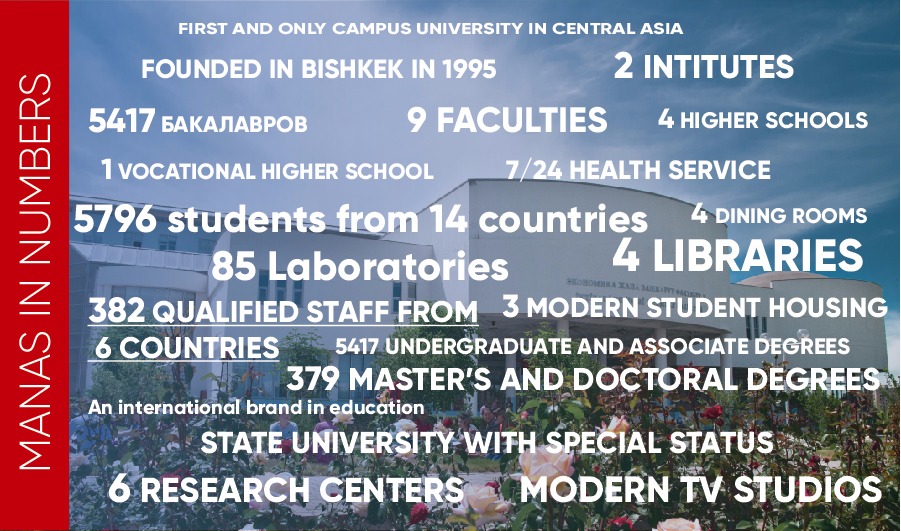 Faculty of Engineering
• Department of Computer
Engineering
• Department of Ecological Engineering
• Department of Food Engineering
• Department of Chemical Engineering
Faculty of Letters
• Department of History
• Department of Turkology
• Department of Western Languages (English Language and Literature)
• Department of Eastern Languages (Chinese and Russian Language and Literature)
• Department of Sociology
• Department of Philosophy
• Department of Guidance and Psychological Counseling
• Department of Translation & Interpretation
Faculty of Economics and Administrative Sciences
• Department of Economics
• Department of Management
• Department of Finance and Banking
• Department of International Relationship
Faculty of Communication
• Department of Journalism
• Department of Public Relations and Advertising
• Department of Radio, TV and Cinema
Faculty of Science
• Department of Biology
• Department of Mathematics
• Department of Applied Mathematics and Informatics
Faculty of Agriculture
• Department of Horticulture and Agronomy
• Department of Plant Protection
Veterinarian Faculty
• Veterinary
Faculty of Fine Arts
• Department of Photography
• Department of Graphic
• Department of Performing Arts
• Department of Music
Faculty of Theology
• Department of Religion
• Department of Islam
Foreign Languages Higher School
• Department of Language Teaching
• Department of Foreign Languages
Tourism and Hotel Management Higher School
• Department of Tourism and Hotel Management
• Department of Travel Management and Tourism Guidance
• Department of Foods and Beverages Management
Physical Education and Sport Higher School
• Department of Physical Education and Sport Teaching
• Department of Coaching
Vocational Higher Schools
• Office Management and Executive Assistant Program
• Construction Program
• Accounting Program
• Automobile and Service Program
• Child Development Program
• Marketing Program
• Tourism and Hotel Management Program
• Computer Programming Program
• Metal and Welding Technology Program
• Furniture and Decoration Program